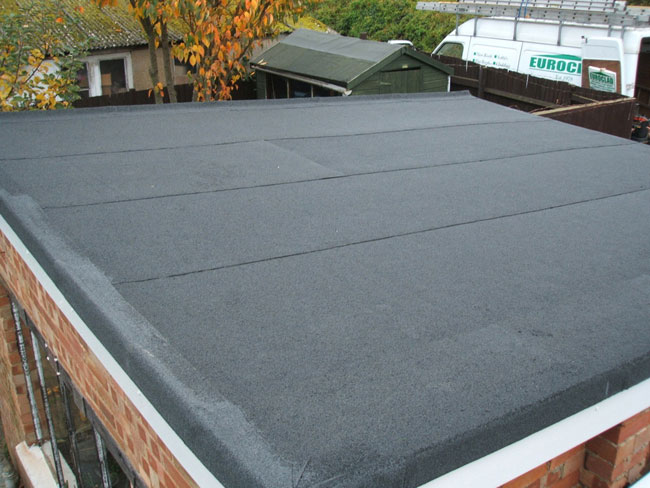 One of our completed roofs in a traditional three layer polyester felt system with hot bitumen
What Is Roofing Felt?
Roofing felt is a term describing a roll of a base material which is impregnated and coated with bitumen or modified bitumen. High performance felt has a polyester base material which doesn't split and is impregnated in modified bitumen.
Polyester Felt Flat Roofs:
Application Of Felt
There are 2 main methods of applying felt; The first and original method is "Pour & Roll". This is where bitumen is melted in a bitumen boiler, often called a pot, then using a ladle put into pouring cans ready to be poured onto the roof surface so that the felt can be rolled into the flood of bitumen.
The second method is "Torch-on". The felt is manufactured with a layer of modified bitumen applied to the underside of the felt, this is heated up and melted using a gas torch to form a "flood" of bitumen at the base of the roll just like pour & roll.
Surface Finish
The bitumen on roofing felt should be protected from UV rays to prevent it from cracking.
This protection is usually provided using mineral surfaced felt which is available in a range of different colours.
The three layer systems we install will last around 40 or more years!
Reroofing Example